Wyoming Fishing Guides – About Wyoming Anglers
See what past clients & guests have said about Wyoming Anglers
---
About Wyoming Anglers
Our Motto
Come as guest leave as a friend. We prefer the friend mentality over the client. We want to build a life long friendship with you.
Our Values
Here's the reason we are becoming Wyoming's Favorite Outfitter
A word from the Owner
I believe that there are several good outfitters in the area that all have some quality guides.  There is only one outfitter I would recommend you steer clear of.  And if you asked me if a particular guide with a different outfitter was good I would give you my honest opinion. But here are the values that truly set us apart from our competitors.  By taking the time to share my heart I'm hoping you will see how we are your best choice.  And if your schedule changes or something out of your control happens and you have to cancel, you will be glad you chose us.  You will feel like your dealing with family, not someone you may never see again that has no problem taking your deposit.
I'm going to start by showing you how we make our decisions around here so you know what type of people you will be dealing with when you choose Wyoming Anglers for your fishing needs.  And hopefully, it will reaffirm that you are making the right decision in choosing someone you can trust!  Rather than me just telling you how we are, I'll give you a few real-life situations of how we have handled cancellations.  Then I'll show you a few testimonies putting our words into action.
Let me start by saying, I try to make every decision with the Golden Rule in mind whether personal or business related! "Do unto others as you would have them do to you."  In my opinion, it's the Best Rule to live by. And it makes it easy to look into the mirror and it creates joy on a daily basis knowing that I have done people right and that people know that I care.  I believe that the seeds you sow today you reap tomorrow.  I may lose money now but by always taking care of people and treating them how I want to be treated, it will pay in the end whether financial or otherwise.
i.e. #1 Say you have a death in the family and you need to reschedule two days before the trip.  I know we are past the two-week mark and technically I can ding you and even make money I really haven't earned yet.  And most companies will!  But I have to look at myself in the mirror.  And I understand things come up and happen that are out of our control.  In this situation, I would probably give a credit or refund.  I know that I could make money now.  But would I want to lose my money in the same situation?  No, the situation is hard enough already.  And if you are impressed by the way things are handled, you will most likely use us in the future.  I try to make the decision with tomorrow in mind.  Not just what's going to make me money now.  I try to make decisions based on how I would want to be treated in the same situation and what is best for our relationship now and moving forward.  You can rest assured that the decisions made go through me.  Not someone that's not present or a manager that gets paid to make sure the company makes the most it can, regardless of whether you're a happy customer.
i.e.#2  Say you want to reschedule the day of because the weather looks cold and windy.  In my opinion, it isn't bad enough to cancel.  Although I personally wouldn't cancel a trip and reschedule, we all are used to different climates that may dictate whether we would enjoy the trip.  If I think the customer will not have a good time if the trip is taken, I would probably give them a credit with the ability to reschedule. Number one, we want you to have a good experience!  Number two, if we make the money now and you don't have a good experience, you may not come back as much as you would if you take the trip when you will have good weather and catch a boat load of fish.  And I might want someone to treat me like that in the future.  We have every reason to treat you right.
I know there are decisions I could make and get away with things that other good companies do.  But our goal is to be the Best guide service in Wyoming and the country and I know that I have to take every decision seriously.  Every customer that walks away and is impressed by our over the top customer service and guides, is a customer that will tell everyone of his friends.  I know there are times that I could send out guides with less experience.  That would require less training from me.  And other outfitters do it.  But not on my watch.  We make it a point that before a guide ever does a paid trip with Wyoming Anglers, I've floated with him and he's floated with my friends and guides and I've made sure to be a part of the process of making sure he's floated in his spare time to make sure he is very familiar with our water.
When I go float a river I'm not familiar with, I want to find a shop I trust and the best guides out there on that piece of water.  Usually, when I meet that shop person I can get that feeling if they are the shop I want to start a relationship with. Once that relationship is started and I have had a good experience, I give my loyalty to that shop.  I understand how relationships in business work. And I know what it's like to want a good experience and a relationship with someone I can trust.  I want you to have that same great experience I look for when I'm looking for a guide personally. And I keep that in the forefront of my mind when making decisions or hiring guides that I would want to fish with. It's the Golden Rule.  It takes time to build an excellent reputation and I take ours seriously.  I'm involved in this business daily and I hire only the Best! Not just any guide can work for Wyoming Anglers.  I've even chosen guides with no experience but that has a great character over guides that I know can put you on a lot of fish.  Because I understand that when you're in a boat all day, you want someone with personality, character, and professionalism.  It is about catching a lot of fish but that's not all that it takes to have the best experience.
The Owner's 100% Guarantee:  I only hire enthusiastic experienced guides for my staff. Patience is at a premium and their ability to guide all levels of anglers is paramount. If you are unsatisfied with their work ethic, professionalism, or their attitude, I will refund your money. No questions asked.
Our Philosophy
Wyoming Anglers Philosophy
The owner Luke Keil was a senior fly fishing guide for another local Wyoming fishing guides service and fly shop for nearly 7 full seasons. After learning the ins and outs in the fishing business, he dreamt of being a part of a highly respected, premier fly fishing company. A company where people were more important than money.  He decided the best way to do this would be to establish one and build it from the ground up.
In June of 2010, he embarked on his own adventure and started a sideline fishing guide service through his company Platte River Raft n Reel, a rafting and rental company operating river recreation and float trips. In the late fall of 2010, he started Wyoming Anglers.
It is Luke's philosophy that everything in a company starts in the leadership and flows down. He believes that by leading by example and showing his guides what it means to sacrifice everything for each other, they will turn around and help the next generation of guides and fishermen. In order to become the best guide staff in Wyoming and the North Platte River, it has to be centered around a team, not just individuals. It is his dream to build a team of guides and friends that work together and have fun on and off the river. To have guides and staff that sacrifice for each other and the guests. To have exceptional service totally focused on the guest's needs and expectations.
Wyoming Anglers goal is to become the most respected and admired fly fishing company in the industry. To see this happen, it will take guides and staff who sacrifice for each other and the whole of the company. Luke considers himself blessed to be surrounded by the caliber of people that are making this dream a reality.
For us, fly fishing isn't a job, it's our passion and a way of life. Here at Wyoming Anglers, you will find guides who love to give fly fishing lessons to beginners. We also like to help seasoned anglers improve their knowledge and skills when fishing with us. We will work hard to put you into some serious fish size and numbers, but our goal is teaching you to be knowledgeable enough to catch lot's of fish when you're NOT with us.
Here at Wyoming Anglers, we consider ourselves very blessed to have such a fun, experienced, and hard-working group of Wyoming fishing guides.  We consider our local Casper, WY guide staff to be the best, most well rounded and diversified group of fly fishing guides on the North Platte River!
Wyoming Anglers fly fishing guides are patient and hard-working professionals who are friendly, knowledgeable, and eager to teach you. Our guides are passionate about fly fishing the North Platte and the goal is always to make Grey Reef your favorite Wyoming fly fishing Destination!
That's the Wyoming Anglers difference. There are no stupid questions. Here you aren't just a client, you become our friends. Would you just like to chat about fishing?  Feel free to text, call, or email us. We're here to serve you. 307.267.5161/[email protected]
Luke Keil,
Owner and Guide,
Wyoming Anglers
Owners Guarantee
The Owner's 100% Guarantee:  I only hire enthusiastic experienced guides for my staff. Patience is at a premium and their ability to guide all levels of anglers is paramount. If you are unsatisfied with their work ethic, professionalism, or their attitude, I will refund your money. No questions asked.
Our Guides
Meet Our Wyoming Fishing Guides
Katelyn Keil | Manager

Kate oversees operations for Wyoming Anglers and Grey Reef Cabins. In one conversation with her over the phone you'll be excited to book and you'll know your in good hands! She is known for her over the top customer service. In her free time you will most likely find her on the water somewhere with her rod bent.
---
Luke Keil | Owner

Luke started his guide career in 2003 with the original crew that started Crazy Rainbow Fly Fishing/Ugly Bug Fly Shop. He worked there for 7-8 years. After the original crew began to split up he decided to pursue his dream of building an excellent team of guides that help each other, work together and sacrifice for each other to make guiding fun and make the guests experience the best it can be. This caused him to start Wyoming Anglers in 2010. He now considers himself very blessed to be surrounded and working with that great team of friends and guides.  He has an undying love for the sport of fly fishing and loves to share it with people. 
---
Julian Cabral | Guide

Julian has been guiding for nearly 20 years. He owns Massive Trout Fly Fishing in Argentina. The seasons in Argentina and Wyoming are almost exact opposite allowing him to do what he loves year round in both places. Julian is a pleasure to spend a day on the river with.
---
Jarron Shane | Guide

I am a Wyoming Native, born and raised right here in Casper, WY. I have always had an appreciation for the outdoors and everything it offers. Fishing has been a passion of mine since I was young, fishing the rivers and lakes here in Casper. I pride myself in my hard work and dedication in providing an amazing experience. Not only do I get to spend each day doing something that I love, but I also enjoy being able to connect with clients over this thrilling sport. My appreciation for my role as a guide grows as I get to see client's excitement from catching fish on this spectacular river. On my free time you will find me on the water targeting trophy fish and tying flies.
---
Jackson Green | Guide

Jackson was born here in Casper and grew up fishing the North Platte. He has been fly fishing his whole life and has always had a passion for the outdoors. His love for fly fishing gives him a drive to work hard to make sure clients end the day happy and having a top-notch fishing experience. He is a patient, hard working and out going guide! He enjoys guiding because he gets to be outdoors and meet people from all walks of life and all personalities. He loves getting to show and teach people what he loves to do. When he is not guiding he likes to socialize with friends and family, fly fish and do some wood working!
---
Keegan Meyer | Guide

Keegan was born and raised in Wheatland WY and is now residing in Casper, WY. He is attending Casper College studying Ag Business. He is an outdoor enthusiast. Keegan has had a passion for fishing since he was young. He also enjoys hunting, from hunting coyotes, to chasing waterfowl. He loves being able to do what he loves and share that passion with clients. Keegan strives to give clients a great experience and show them why he does what he does!
---
Riley Mcdowell | Guide

I grew up in a small farming community in Iowa fishing for all the Midwest puddle fish. When I moved to Montana for college, I quickly realized my bait casters and rattle traps were not going to get me very far. I picked up a fly rod and spent the majority of the next 4.5 years studying, learning and fishing myself into a knowledgeable angler. I am headed into my 3rd year as drift boat captain/guide now and still love it! My favorite part of guiding is that fish are not entirely predictable; they continue to surprise me with their holds and habits. My favorite water to fish/guide is Miracle Mile and my favorite time/way to fish it is with big chubbies during the stone fly hatch! When I am not guiding, I'm usually somewhere on the river trying to fool either ducks or fish.
---
Nathan Merchant | Guide

Nathan has been obsessed with fishing ever since he could walk. If there was ever water around, he had a rod in his hand. Born and raised in a small farm town in Ohio, Nathan spent most his free time fishing, hunting, and camping everywhere he could. Nathan is a pro-staff member of the industry's top manufacturers, and finds he's most at peace when he's on the water. There's never a dull moment around him, he puts his clients well-being above everything else, and couldn't be more patient with new anglers. Nathan graduated with a double-major from the University of Akron and is currently working on his Masters Degree in Clinical Mental Health Counseling. Nathan's knowledge and experience of fishing, patient instruction, and lively conversation will leave you having a great day on the water – and you'll leave as a friend. Nathan's longing passion is to see people fall in love with fishing, and create lasting memories with clients on the water.
When not guiding, you can find Nathan targeting trophy rainbows & largemouth bass with his friends, finding new trails to hike and waters to fish, or traveling with his girlfriend.
---
Mark Schmid | Guide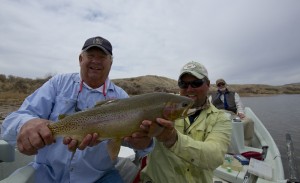 Mark grew up in Livingston Montana where he learned to fly fish on the Yellowstone River at the age of 7. He started guiding on the Yellowstone, Madison, Gallatin, and Big Horn river's before he began his career as a fishing guide in Wyoming. Mark is more than a decade year old veteran guide here on the North Platte River. He has been guiding as long as any guide around. He was formerly the Head Guide for the Ugly Bug Fly Shop/ Crazy Rainbow Fly Fishing in Casper Wyoming, before moving on. He has since then been guiding for Wyoming Anglers and we are excited to have him on board! He is a very patient, professional, and knowledgeable Wyoming fishing guide.
---
Oliver T. Ashenhurst | Guide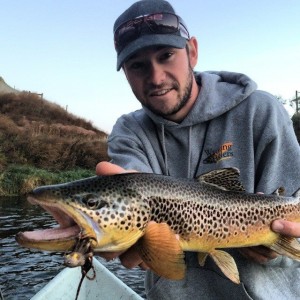 Oliver is a small town, Wyoming product who feels right at home if the wind is blowing. He has been with Wyoming Anglers for a number of seasons and revels in helping others to catch fish. He appreciates guests no matter their experience level and always has a good time on the water. When he has free time, Ollie enjoys casting large dries to well-proportioned trout, as well as feeling the tug'n'roll of an "ugly" German Brown on a streamer.